Little Red is on Fire!
Jun 7, 2012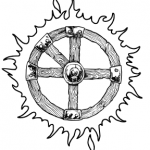 She just got back from the Burning Wheel room and she's still putting out the flames. What? What's this? A Burning Wheel room, where all the Burning Wheel HQ games will be run? Yes indeed!
So far we've got on the roster
And from what The Wolf has heard... more to come!