Immersive Implication
Date:
Oct 23, 2021
5:10am (PST)
Jabari Weathers, Jonaya Kemper, Whitney "Strix" Beltrán, April Kit Walsh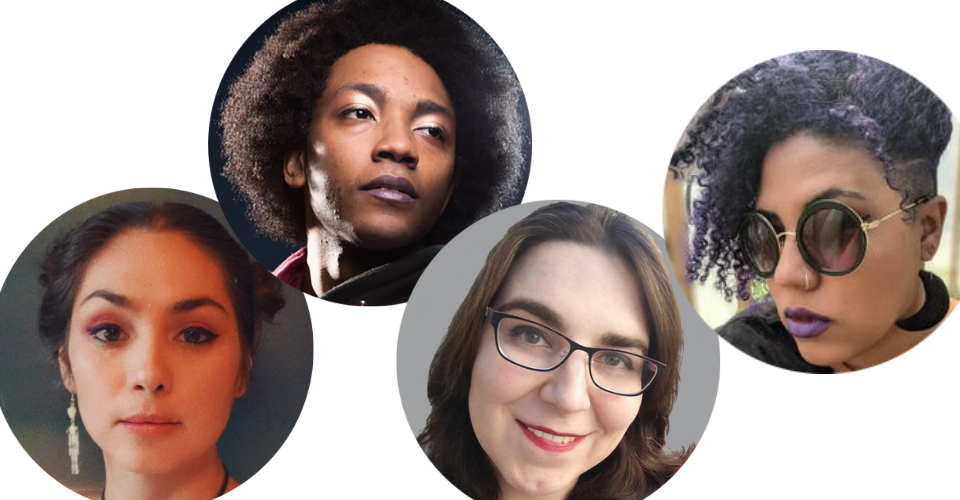 Roleplaying is one of the least passive ways to share a story and perspective with an audience, but there is a deep challenge in bringing players into their agency and affirming the consequence of their action through shared fiction. This discussion examines the ways games attempt (or avoid) immersing their players in the fiction through implication—whether that be through mechanics, fiction or metagame context in the hopes of helping other designers, facilitators and players to do the same in their own texts and at their own tables.


April Kit Walsh

(she/her or gay/ghem) writes queer games about feelings, vulnerability, and caring for one another, including

Thirsty Sword Lesbians

and

End of the Line

. She used to be a swordfighting ballerina, but claims those days are behind her; she has absolutely no idea who that masked heroine with the sword and the tutu might be. You can find April's games at

GaySpaceship.com

and on Twitter at @GaySpaceshipGms. When not writing RPGs, April is a civil liberties attorney working to protect the rights of criminal defendants, activists, journalists, and everyone else impacted by technologies of control or empowerment.



Jabari Weathers

(they/them) cannot confirm or deny their suspected status as an exiled goblin regent seeking refuge beyond the veil. They presently reside in Baltimore, Maryland, making

fantasy and sci-fi illustrations

and spinning worlds and fictions for roleplaying games and other interactive projects out of words to keep up their glamour. Other things that they enjoy are strange films, stranger music, singing in public places, and the thoroughly uncanny.



Jonaya Kemper

(she/fae/femme/they) is a game designer, educator, and activist, who specializes in the power of transformative games within marginalized populations. A graduate of NYU's Gallatin Graduate School, Jonaya traveled the world to explore how embodied roleplay experiences like larp, can transform marginalized player's perspectives of self. Their theory of emancipatory bleed garnered the prestigious E. Francis White Award for work that has impact and significance beyond the academy. Working across the game design spectrum to create innovative, engaging gameplay and equitable spaces, they have helped design large scale international events in stunning locations like

Atropos' Forbidden History

, to smaller intimate experiences like

Feeding Lucy

, which can be found in

Honey and Hot Wax: An Anthology of Erotic Art Games

distributed by Pelgrane Press. Currently Jonaya is the Lead Game Designer of the NSF funded P3G project at Carnegie Mellon University where she also teaches embodied game design.



Whitney "Strix" Beltrán

is a multiple award winning narrative designer for both tabletop RPGs and videogames. She has designed/written on

Bluebeard's Bride, ‎Van Richten's Guide to Ravenloft (Dungeons & Dragons), State of Decay 2, Beyond Blue, HoloVista

, and many more projects. She is currently the Project Narrative Director at

Hidden Path Entertainment

where they are making a AAA

Dungeons & Dragons

video game. Strix has a master's degree in mythology, and has published academic papers on the relationship between myth and play. She's done research with Carnegie Mellon's Human-Computer Interaction Institute, and written chapters in university level RPG studies textbooks. She is an active diversity and inclusion advocate in the industry, and together with her husband Ajit George, runs a private high potential mentoring program for game developers of color.



Panel Video