From the Depths of the South Pacific #KiwiRPG Arises!
Date:
May 6, 2022
6:10pm (PST)
Morgan Davie, Liam Stevens, Liz Parker, Vex Chat-Blanc, Jack Blair, Hamish Cameron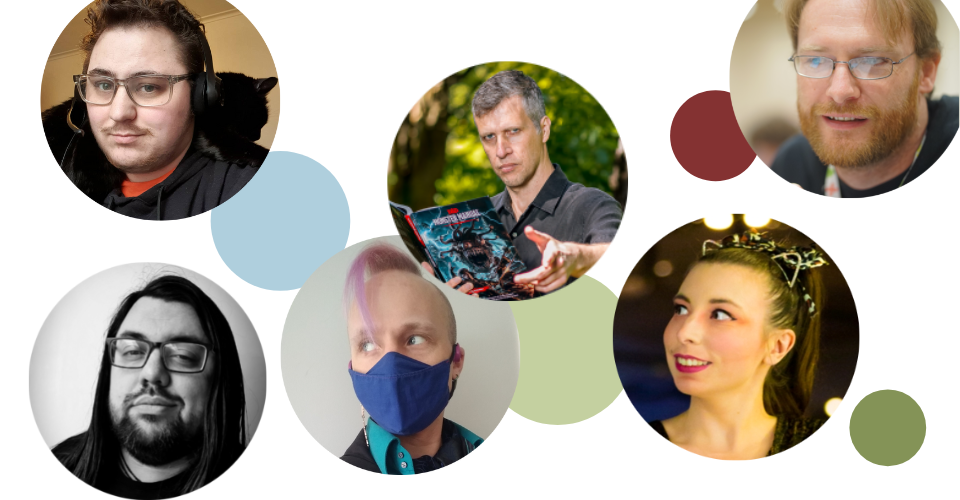 Last Big Bad Online, two panels of Kiwis spoke about the RPG scene in New Zealand. Since then, we've gathered our gaming whānau to form a giant collective that now threatens the world with a good time! #KiwiRPG week 2022! As the first ever KiwiRPG week draws to a close, panelists will reflect on how KiwiRPG came together, lessons learned about forming a community, how KiwiRPG fits into the global RPG scene, and what cool stuff everyone watching can go and enjoy right away.
Morgan Davie
(he/him)
, aka morgue, is a Kiwi game designer and podcaster living in Wellington, Aotearoa New Zealand. He founded Edinburgh's long-running Open Roleplaying Community and has been involved in game-community building in Wellington since the 90s. In recent years he's worked on the Doctor Who RPG for Cubicle 7, designed multi-award winning school resource Game of Awesome, and most recently has been design lead for the second edition of a|state from Handiwork Games.
Liam Stevens
(
he/him/la
)
is a Māori TTRPG creator, cultural consultant, and podcaster based in Aotearoa/New Zealand, who draws whakapapa to Ngāti Kahungunu ki te Wairoa. Recently he has done work on various projects, most notably contributing to Hull Breach Vol. 1 and taking over the Mud & Blood podcast under the Toa Tabletop banner.
Liz Parker
(she/her)
is a game consumer! She has never written a TTRPG game and has no plans to do so. However, she will happily play anything that catches her interest and is currently, with her DM and fellow players, creating an Actual Play D&D podcast called "The Tear-able Adventures of the Janderson Breffords Parchment Company", fondly known as New Zealand's longest-named podcast! 61 characters of pure algorithm- destroying goodness! When she's not pretending to be a dwarf barbarian called Karen, Liz is putting in the yards on the #kiwiRPG social media accounts! Follow along on Facebook.com/kiwiRPG, instagram.com/kiwiRPG, and twitter.com/kiwi_RPG as she promotes New Zealand talent and learns to post like an industry professional instead of like an internet gremlin.
Vex Chat-Blanc
(they)
is a designer of tabletop RPGs, epistolary games, world-building tools, touch-building exercises, game design tools, safety tools, lyric games, dice games, office stationary games, lightly veiled threats toward billionaires, bird-LARPS, jokes vaguely shaped like games, and games that are intentionally bad. Their brain is just truly all over the place and cannot calm down.
I'm
Jack Blair
(
they/he
)
, and I'm a queer, disabled game designer from Aotearoa. I've been designing for years now but only really started doing it "seriously" in 2020. Since then I've released about eighteen projects in various stages of completion, and been part of two actual play podcasts. I've thrown myself wholeheartedly into this game design thing, and it's brought me nothing but joy.
Hamish Cameron (he/him) is a pākehā tabletop game designer and academic. In game design circles, he is most well known for The Sprawl (2016) and Dinosaur Princesses (2019). His most recent game project was released last week: Kratophagia (2022). In his academic work as a Lecturer in Classics at Te Herenga Waka | Victoria University of Wellington, he studies the history and geography of the Roman Near East, ideological representations of imperialism in classical literature, and the reception of ideas about the ancient world in modern analog and digital games. His current design projects include a board game on Romano-Parthian Mesopotamia and three tabletop roleplaying games. You can find links to his game design work
at
Ardens Ludere
, to his academic work
on his VUW page
and to his hot takes on Twitter
@peregrinekiwi
.