From Fledgling to Established
Date:
May 6, 2022
5:10pm (PST)
Indrani Ganguly, Samir Alam, Shubham Mehta, Sivaram Krishnan, Sean D'souza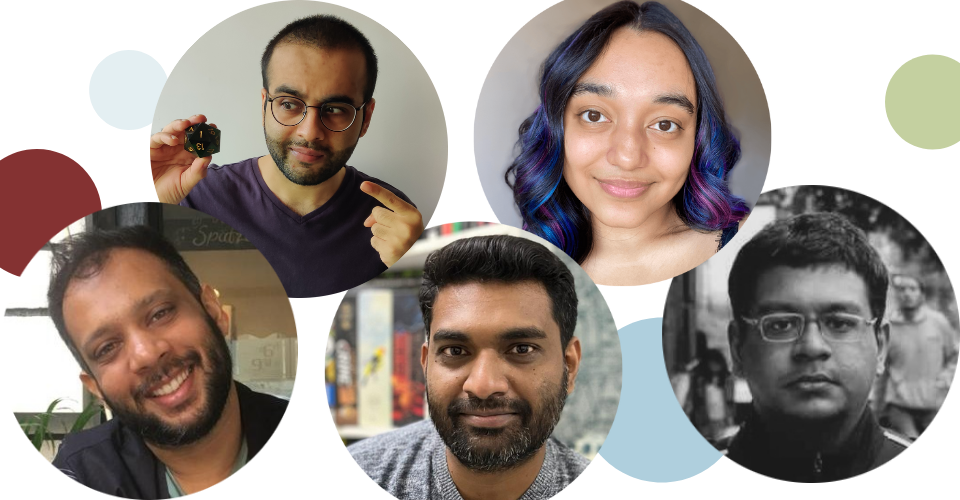 Breaking a Niche TTRPG Community into an International Space
For the longest time, TTRPGs have been dominated by eurocentric stories and narratives. In recent times, this has been changing. A part of this change is that the mic is being passed to people with different lived experiences. The Indian TTRPG community is still small; it is an extremely niche interest, but one that has generated a wealth of unique talent and creators. But without the right kind of opportunities and platform, these voices will remain stunted. This panel will focus on the tools, support, and ideologies that need to be applied in order for creators from developing countries to successfully find their place in the larger TTRPG industry.
Indrani Ganguly (she/they) is a queer TTRPG streamer, community builder, entrepreneur, and marketer from Mumbai, India. She is the person behind Nonagon Dice, India's first dice-maker, and the co-founder of Desis & Dragons, India's largest TTRPG community. She is passionate about building a safe TTRPG community for queer and marginalized folks from India. For her day job, she heads Marketing Communications at Pariah Interactive and manages social media for Shanti Bhavan. Her goal is to put India on the map for tabletop roleplaying games!

Samir Alam (he/him) is a writer and editor based in Mumbai, India. With a background in academic research, journalism, publishing, and filmmaking, he has focused his skills and experience on living two lives—one as an operations manager for a global marketing firm and the other as the co-founder of India's first TTRPG community platform. He would really appreciate it if people checked out India's first TTRPG quarterly—Maze Magazine—and shared their feedback.

Shubham Mehta (he/him) is a screen and TTRPG writer who sits by the crossroads of fantasy, colonial history, mythology, and subversion. He is one of the co-founders of Desis & Dragons, India's largest TTRPG community. He may be interrupted by his cat Minerva.

Sivaram Krishnan (he/him), or Siva as he is called by most, has been an RPG player since 2014. He started with D&D 4e and Pathfinder but has since explored all varieties of RPGs and the stories one can explore with them. He's a glutton for good stories, no matter which medium they come in--books, movies, or TV. His love for stories led him to write his own D&D 5e adventure. Siva is also a part of Desis & Dragons' community moderation team. Outside of TTRPGs, Siva enjoys cooking, reading, gardening, and playing soccer.

Sean D'souza (he/him) is a storyteller, teacher, musician, and entertainer at large, from Mumbai. His love for alternate realities and fantasy worlds sets the stage for the stories he tells. He currently freelances as a copywriter and scriptwriter, and teaches Creative Writing at St. Xavier's College in Mumbai. All this, while building worlds and stories, as co-founder of Panic Not! - India's first TTRPG community.