Friend and Foes Kickstarter Launch Party!
Oct 7, 2014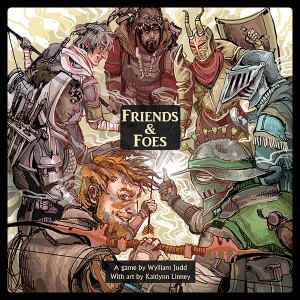 Wylliam Judd, creator of Friends and Foes will hosting a Kickstarter Launch party at Big Bad Con. Wylliam will be running two tables of Friends and Foes in the Empire Room on Sunday from 10AM-4PM. Games play is about and hour and there is no need to sign up, just come by and check it out!
"Friends & Foes is a fantasy board game guided by modern game design principles. It features simultaneous turns, has no player elimination and plays in 45-75 minutes. Choose from seven unique and customizable characters in this team fantasy brawler.
It's easy to learn and to teach but every decision matters as you build your strategy throughout the game. The characters - the Enforcer, Berserker, Assassin, Duelist, Fire Archer, Storm Caller or Warden - each have a unique play style and immersive feel. Once you have a few games under your belt you can start experimenting with designing your own character by choosing your own abilities."
Come on down to the Empire Room and check it out and enjoy some pizza courtesy of Wylliam while you're at it!
No booking… just show up and play!