Contract Signed! - Big Bad Con 2016 is on!
Mar 12, 2016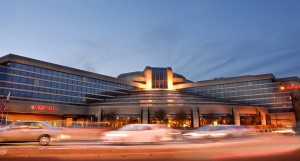 The contract is signed, scanned, and emailed to the Walnut Creek Marriott, who at this very moment is hosting FOGcon! Some of the awesome amenities at the hotel:
Three blocks from BART, and a shuttle service to pick up and drop you off!
Absolutely beautiful spaces to game and socialize in. A great lobby, several comfy nooks, and secret passages between rooms!
4000 more square feet that we had at the Hilton!
Free Wi-fi for all attendees
Discounted valet parking for all attendees
All-gender bathrooms
20 private gaming rooms
Over 100 restaurants in a 3 miles radius. Over a dozen in a 3 block radius. The hotel shuttle will take you to any of them!
What's more is that three weeks after Big Bad Con 2016, we'll sign a contract for 2017 so we'll have the dates and rates locked in! More pictures and details here.
So excited for Big Bad Con's new home. Stay tuned for some big announcements in our upcoming Kickstarter campaign!