Big Bad Con - On your phone!
Sep 18, 2013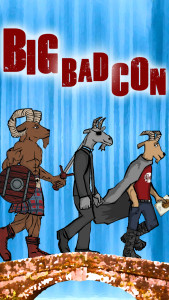 Big Bad Con Mobile is now available, for both iOS and Android!  On it you can find:
A list of events hosted
Photos of the con from the last two years
Convention information (contact info, maps, etc)
The Big Bad Blog with convention updates...like this one!
Hotel information for booking rooms and contacting the hotel.
Our Twitter and Facebook feed.
Here's the download links for Android and iOS. Or just search for "Big Bad Con" in your app store!