So You Want to Hire an Editor
Date:
May 7, 2022
3:10am (PST)
Jenn Martin, Pam Punzalan, Jacky Leung, Karen Twelves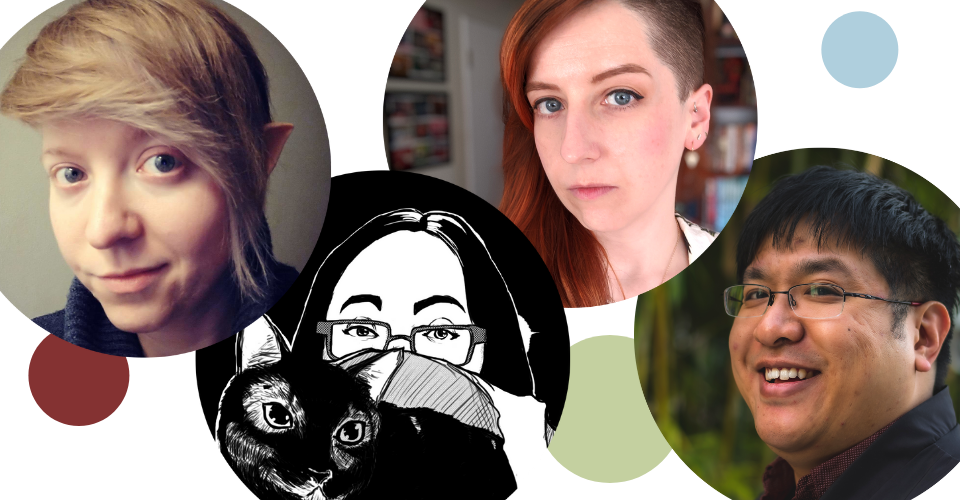 Are you thinking of hiring an editor for your self-published game, or are working with a publisher for the first time, and aren't sure what to expect? We've got some tips for you! Join our panel of RPG editors as we share our experiences in the industry, what to expect in the editing process, and how to get the most out of the author-editor relationship. Don't forget to bring your own questions for a Q&A!
Karen Twelves (she/her) is an editor and linguist, and has had the pleasure of working on such projects as Blades in the Dark, Fiasco, Dialect, and Thirsty Sword Lesbians. She just crowdfunded the second edition of Improv for Gamers, a collection of theater exercises to help strengthen skills for gaming, GMing, and larping. She loves playing one-shot narrative games with triumphant wins and disastrous fails, and will tell you all about her Duelist character from a truly epic Pathfinder "Kingmaker" campaign. Learn more about her at karentwelves.com and improvforgamers.com!
Jacky Leung (he/him) is a nonbinary Chinese American freelancing TTRPG writer and editor based in South Florida. Besides writing, he enjoys being a full-time foodie and culinary explorer, always looking for the next adventure. He has worked on projects with MCDM, Wizards of the Coast, Evil Hat Productions, Paizo, and others. He's also the Creative Lead for Unbreakable Publishers to help Asian voices tell and share their stories. Jacky can sometimes be spotted as an agent of chaos on All Nerds Here's Twitch channel.
Jenn Martin (she/her) is a maker, writer, game designer, and project manager living outside of Chicago, IL. She keeps her feet on the ground as Production Manager for Bully Pulpit Games— with fair play and a square deal. She keeps her heart on her sleeve as the Larp Coordinator for Big Bad Con—where safety and care are central values. She keeps her eyes to the stars making games about space, curiosity and exploration. Her games include The Goose of Grillner Grove, Reunion (co-designed) and the forthcoming Beneath Violet Waves (Games that Bind Us) and Folly & Fortune (Fiasco playset).
Pam Punzalan (she/her) is a queer game worker based in Manila. Her professional work includes Journeys Through the Radiant Citadel, Hunter: The Reckoning, Starfinder, Spire, and Thirsty Sword Lesbians. She's working hard on the official Dagger Isles Supplement for Blades in the Dark.